It was *really* hot today, so we stayed inside most of the day. I made some Shepherd's bread to use this week, did a little housecleaning, and a lot of knitting. C put up a new mailbox (the old one was falling apart) before it really started getting hot.
After supper it had cooled off a bit, so we went out to harvest strawberries: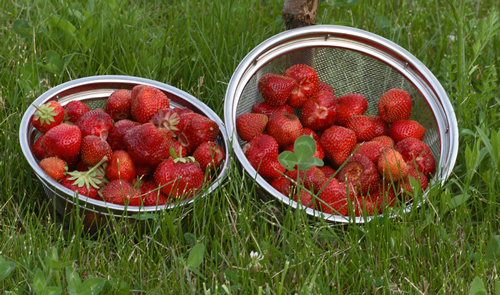 All that took us about 10 minutes. Most of these will get used in recipes...these berries are great in things (waffles, jam, sorbet), but not as good on their own.
While we were out there - we saw a hawk! I had never seen one so close before.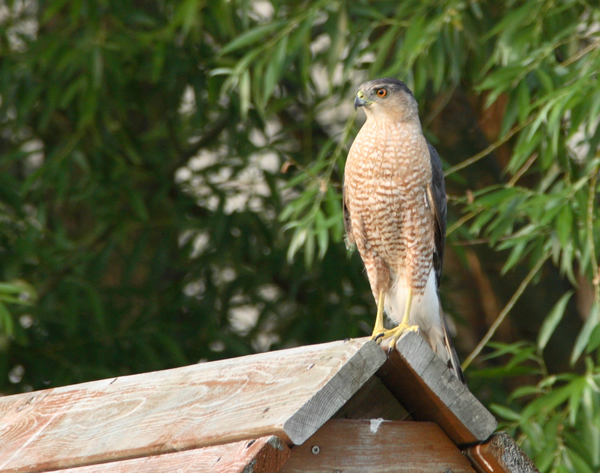 He is on top of the next door neighbors' playset. When we went to go outside, he was sitting on our patio, but he moved by the time C grabbed his camera (you didn't think I took those nice photos, did you?)
My photos are much more mediocre, but of more interest to knitters...
I opened up a skein of STR in Fire on the Mountain:

And wound it up.
I swatched for Monkey this afternoon (no photo of that). Yes, I've made them twice before, but they have been a bit small for me, so I went up a needle size. Unfortunately, with those needles my gauge is TOO much bigger. I need to try to find something in between. Of course I discovered this AFTER I placed a Loopy Ewe order today. (I may have done a little too much online shopping in general today.)
I can, however, show you my progress on the Grasshopper sock. It is very slow going, but I am moving forward. I think I have about 2 1/2 inches to go before starting the heel, according to the pattern - it says to go until you are 3 inches from the edge of the recipient's (my) heel.
I will be so glad when this one is done. I'm only pressing on because I love the way it is looking.