I just got it cut and they always tease it up 'n stuff. Normally it is pretty flat (I prefer to think of it as "sleek").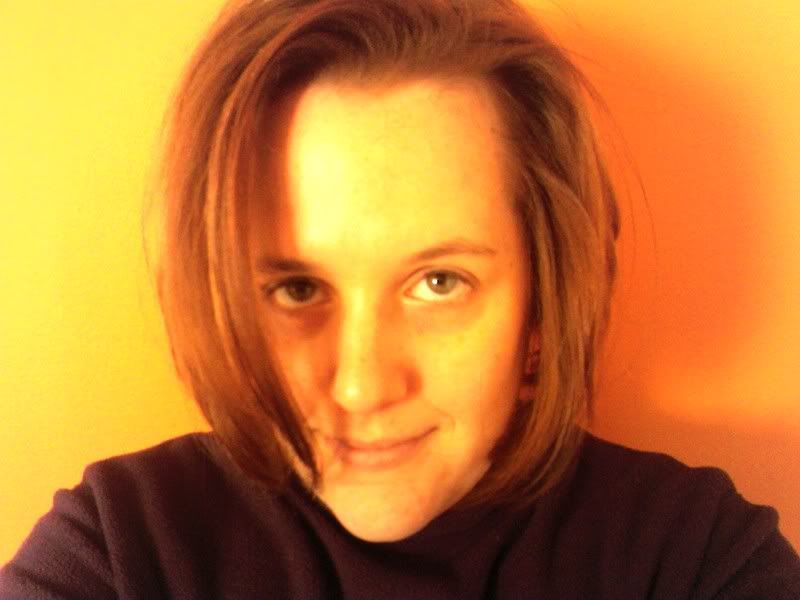 And here is me being silly... (who, me? silly?)
And, per the other day's Socktoberfest posting, here is my sock yarn stash (I was waiting for a few skeins I ordered to show up from Knitpicks, and now they are here).
Do you have certain patterns planned for some of the yarns? Do you buy yarn and then choose a pattern?

All the Knitpicks yarn is probably going to turn into Retro Rib Socks, like the pink ones I'm currently working on. The pattern is fun and it works really well with the yarn. Sock yarn is the only kind of yarn I'm generally comfortable just buying without a pattern in mind...because if I buy enough yarn for a pair, it's generally enough no matter what pattern - unless, I suppose, I decided to do knee socks...then I would have to know before I bought the yarn.


Does a certain sock yarn you have in your stash take you back to a certain event? (where you were when you bought/received it? what was going on in your life at the time!)

Not really, but the Socks that Rock (middle row, far left 2 hanks) is from when I went to Stitches this summer. I didn't realize how hard it is to get your hands on...otherwise I might have bought more of it! I can't wait to use it. But by the time I use it up, it might be time for next year's show and I can buy more!

So the big trip is 2 weeks from today...pretty much at this exact time in 2 weeks I will be leaving for the airport. Yikes! I went to the bank today and ordered some Euros so we'll have them ahead of time...and C has a coworker with leftover British Pounds, so we'll buy those too, just to make things a little easier.