Work today was crazy, but at least not tragic. And tonight I ate a very small portion at supper so I could eat my cake. Lest you think I was pigging out, the cake wasn't all that big either...about 4 bites worth. (OK, it was double that size, but I know it's not wise to pig out like that so I shared it with C.)
Anyway, I thought you might like to see a card I got the other day. A good friend of mine who knits is on vacation right now, and she had a birthday while she was gone...so the day before she left I gave her some sock yarn and a sock pattern. So I got this card in the mail (which she made):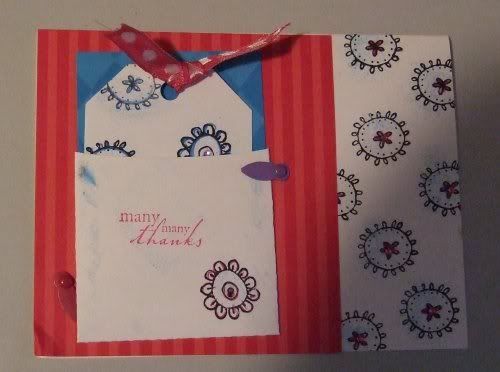 Isn't it cute? And see that pocket on the front? Look what was inside: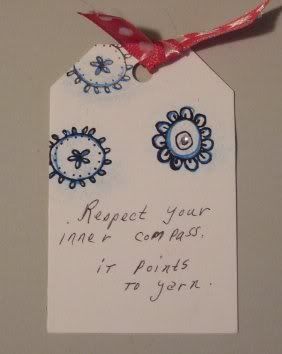 I think that's a sentiment we can all agree with.
By the way, the Sockotta socks are pretty comfy. The first one I made was a little bit big (if you remember my
complaints
from when I was making it), it was a bit off gauge because the yarn wasn't holding well after I knit it. The other one was sized much better, thanks to my making my hands sore by making darn sure the stitches were holding. Either way, I'm happy enough with the socks, but I'm still not going to use that yarn again.
In other news, even though I don't have a button, I have stuck to the Knit From Your Stash so far this year. All I have bought so far was stuff for my SP, plus the STR club (and sock yarn doesn't count!). Even when I finish the basketweave, I have so much stuff on deck, with yarn I already have, that I think I am set for awhile. (P.S. Button added. We are rockin'. Even though Linux is a pain in the tail!)