Hence, I must continually beat my high score, which right now is 52.4 MPG for a whole tank.
Not too shabby! Of course, it doesn't stay up this high for long. I'm currently at 54.2, which I'm hoping I can hold onto. (The funny thing is that I hate video games, but when I'm saving the environment, I can get into it. :) )
So here is the bread from last night: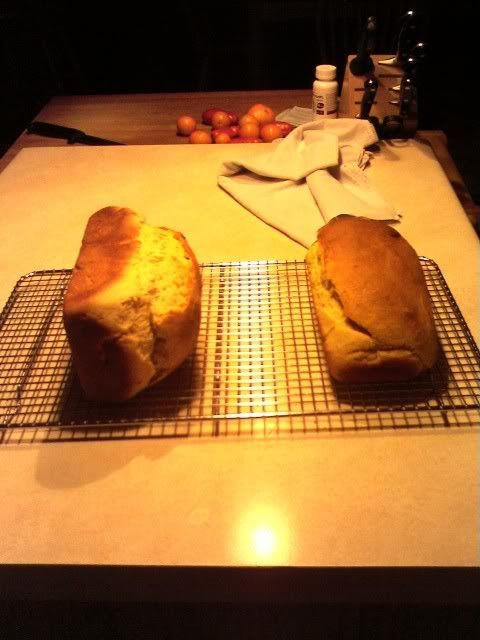 Damn! Look at that ovenspring! Anyway, the middles of the loaves are at least sandwich-able. I'm fairly certain this bread isn't as fluffy as it is supposed to be, but it does taste good. I toasted a slice this morning and found it hilarious that there was so much butter in it that it sizzled! Hee! I just think this is funny because it's not like I am an inexperienced bread baker. I have successfully baked baguettes (after years of trying)!
Finally, I got a package today, but it wasn't the one my SP sent over the weekend (sorry, hopefully they'll bring that one tomorrow). Instead it was my KnitPicks order, which is primarily stuff for my spoilee, but I also picked up some goodies: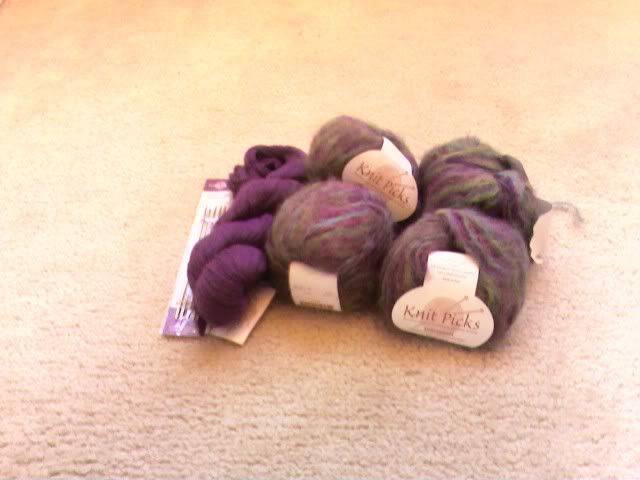 Some size 2 KP DPN's ('cause it would be a great idea to cast on for a third simultaneous pair of socks), another skein of KP laceweight so I can do the flower basket shawl, and some skeins of Suri Dream, which says it's super bulky but the strands look pretty thin to me. Anyway, it's beautiful and I have no idea what I'll make with it.