Yesterday afternoon, C and I went bike shopping. He already has one, but I'd like to get one for running small local errands. It seems silly to drive my car 3 miles to Target or wherever when I just need a couple things. I can get there without taking any major roads, so a bike would be perfect. I think I found the right one, and it can be outfitted with a rack and bags. I still need to actually place the order, but I will probably do that within the next few days.
For dinner last night, we made our first non-dessert souffle: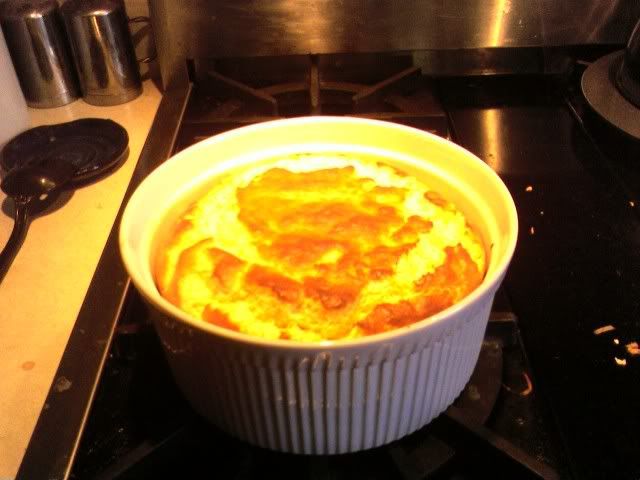 It's a cheese and corn souffle. It was okay. We both would prefer something similar to the sweet corn souffle we had at a
restaurant
in Wisconsin, but I need to find a recipe. We had this with grilled ostrich burgers, no bun, with provolone melted on top. I had forgotten how much I like ostrich meat.
This morning after yoga, it seemed to be threatening rain, so we had a quick breakfast and went out to do a little harvesting (though it never did rain):
Edamame and a few stray tomatoes from volunteer plants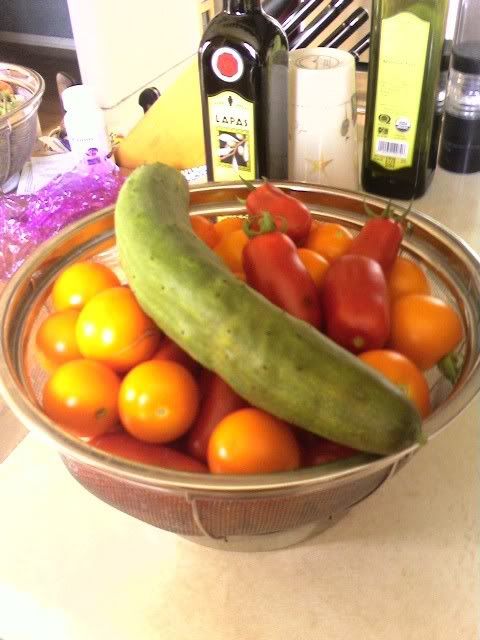 Assorted other veggies we actually planted on purpose - though the tomato plants are NOT doing well at all. Some of them look almost like someone sprayed Roundup on them!
So I have been posting lots about my sock projects but nothing about the sweater I'm making for C...mostly because I haven't wanted to work on it much during the summer. But this is the Basket Weave Pullover from IK (I think it's the Fall 2004 issue):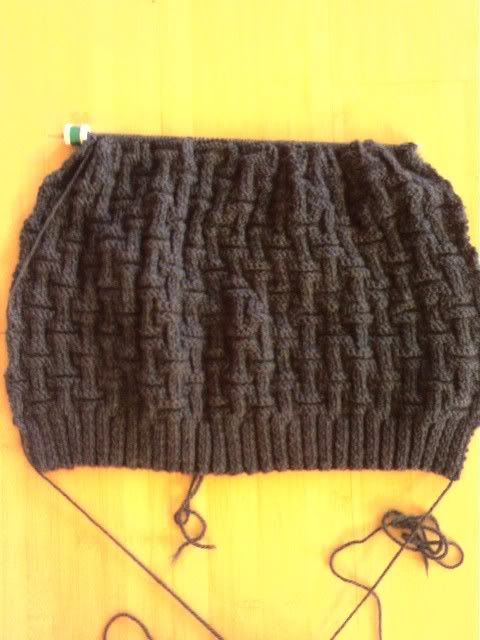 And yes, this is all I have done even though I started it in May :( But I'm almost to the point of shaping the armholes. I am vowing to do at least one pattern repeat (12 rows) per week - if I can keep to that pace I should be able to finish it by the time it gets cold out. (Of course, finishing is another story altogether.)
And speaking of socks, I forgot to post the one I finished last weekend!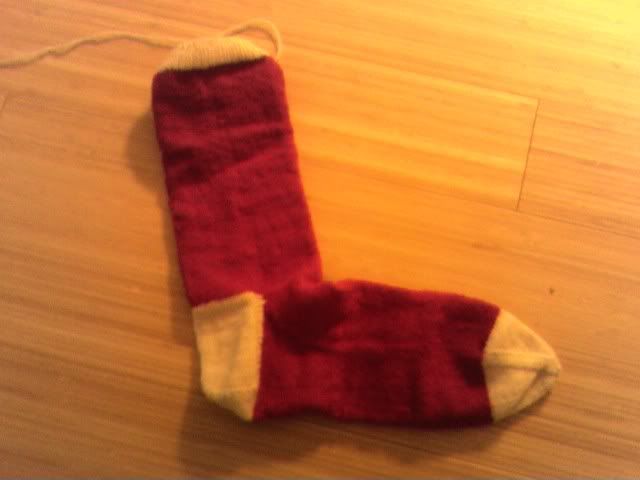 So cute! But so so many teeeeeeeeeeeeeny stitches. I need to cast on for the second one tonight and get through the ribbing and first color change, so I can work on it at the doctor's office tomorrow (has it really been a month since my last round of allergy shots already?)
Dinner tonight is going to be pizza with fresh mozzarella, fresh tomatoes, and fresh basil. Oh, and salad with tomatoes, cucumber, and mozzarella :) I made some honey gelato as well this afternoon, and ended up with 2 extra egg whites. After searching through my recipes, I found that if I double the recipe I can make something called Chocolate Decadence. Sounds right up my alley!
Chocolate Decadence (from Cooking Light)
Cooking spray
1/2 cup plus 3 tablespoons sugar
1/4 cup 2% reduced-fat milk
2 tablespoons plus 2 teaspoons unsweetened cocoa
1 1/2 tablespoons butter
1/2 ounce unsweetened chocolate, chopped
5 tablespoons all-purpose flour
1/2 teaspoon vanilla extract
1/8 teaspoon salt
1 large egg white
8 teaspoons semisweet chocolate chips


Preheat oven to 350°.

Lightly coat 4 (2-ounce) ramekins with cooking spray, and sprinkle 3/4 teaspoon sugar into each of the ramekins, shaking and turning to coat. Set prepared ramekins aside.

Combine 1/2 cup plus 2 tablespoons sugar, milk, and cocoa in a small saucepan, stirring well with a whisk. Bring to a boil over medium heat. Cook 30 seconds or until sugar dissolves, stirring constantly. Remove from heat; add the butter and 1/2 ounce unsweetened chocolate. Stir until the chocolate melts and mixture is smooth. Cool chocolate mixture 10 minutes.

Add flour, vanilla, salt, and egg white to chocolate mixture, stirring with a whisk just until blended. Spoon 2 tablespoons chocolate mixture into each prepared ramekin, and top each with 2 teaspoons chocolate chips. Divide the remaining chocolate mixture evenly among ramekins, spreading to cover the chocolate chips. Bake at 350° for 20 minutes or until barely set. Cool for 10 minutes. Invert onto dessert plates. Serve warm.

I'll let you know how it is - I decided to start making it after we actually eat the pizza. But I did do a nice mise en place so everything is ready: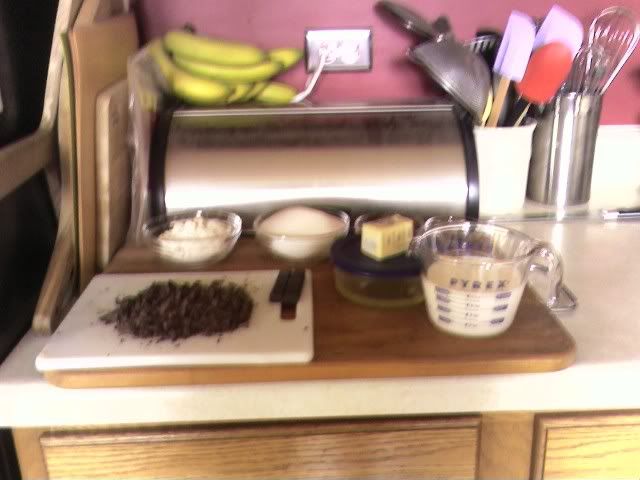 (yes, that is a little bit of my Green and Black's - only 6 squares) on the white cutting board. I don't have any unsweetened chocolate, but I have used this as a substitute before when only a small amount is needed, since it's not very sweet, and it has worked fine. The rest of the stuff on the white cutting board is chopped Ghirardelli Dark, because I turned out not to have any chocolate chips.