OK, lots of updating to do.
The Yo-Yo Ma concert was really good as expected. He did a Haydn cello concerto, which I loved. And then there was a brand new piece by
Golijov, just premiered two days earlier. Well, I liked parts of that one. I don't like the dissonance that is really common in modern pieces - it makes me jump out of my skin. But the middle of the piece was lots of fun and had all sorts of unusual drums in it. So that made up for it. And then the orchestra played Bolero for the finale. Ohmygodineverrealizedhowfreakingboringbolerois. I don't think I've ever just sat and listened to it before. Boring. Then there was the guy sitting right behind C who kept coughing through the whole performance - without covering his mouth, so he was basically coughing on the back of C's head. I didn't realize the non-covering part until C told me after the concert. If it had been me, I would have turned around and hissed "cover your goddamn mouth".

Anyway.

I meant to mention that I went to the LYS last weekend. I honestly don't think I'm going to go there anymore. They don't have anything I can't get anywhere else, their prices are not very good, and the people who work there are not very nice. I was planning to get a ball of Opal sock yarn, and was looking around to see if I wanted to get anything else. One of the employees stopped me and said in a snotty tone "You DO realize that's sock yarn you're carrying?" I looked at her, raised my eyebrows, and said "Oh good, because I was hoping to make some socks out of it!" This is just one example, but was my last straw. There are other yarn stores in the area, and most of what they carry I can buy online anyway.

So! Today I decided to go to the Stitches Midwest show. I didn't buy too much because by the time I decided to go and drove my butt down there, the show was only open for 3 more hours. It took an hour and a half just to have a good look around before I started buying anything. I did see a demonstration of the Magic Loop method of sock knitting - not enough to learn how to do it, but enough to understand the concept, which helped because I could NOT picture it before I saw someone do it. I'm honestly not sure if I would bother trying to do it, though. Maybe I'll try it once, because I

love

knitting on circs. We'll see. It would be pretty cool to do 2 pairs of socks at the same time.

But I know you have been waiting for the photos of what I bought!


Here is some "socks that rock" yarn from Blue Moon Fiber Arts. It is gorgeous yarn and unfortunately the colors don't come through that well on the photo. The one on the right has some bright purple and lime green in it.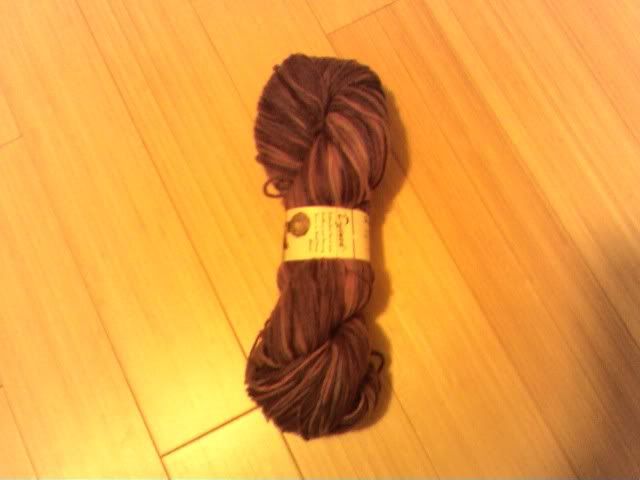 This is some nice sport-weight wool/hemp blend that I am eventually going to make into gloves for myself. The woman I bought this from spins and dyes the yarns herself...and she doesn't have a shop, she just goes to the shows and has a small online business. I love this. I also bought some mini-skeins from her:
I think these will be made into a scarf at some point.
And these will become socks eventually.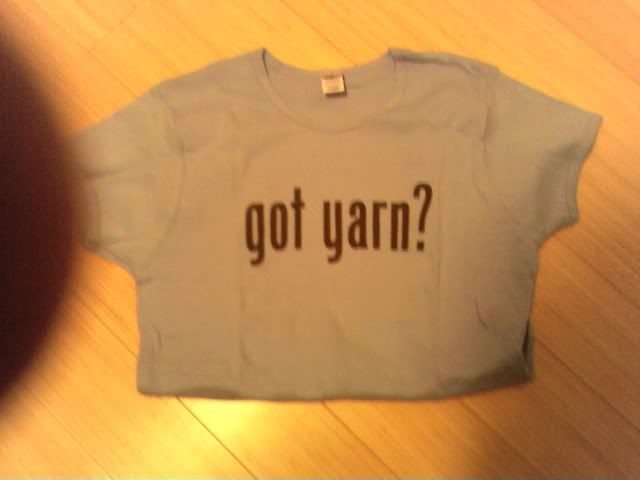 Sorry about my finger being in the way here, but you can still see the shirt. I couldn't pass this up. It's baby blue (I think it looks gray in the photo), which isn't really one of my favorite colors, but I had to get it.
There were so many other things there that I liked, but I ran out of time even before I ran out of money. It's OK, because I have at least a year's worth of stuff I am wanting to knit already, so I can just plan to spend more time next year. I did get a tip to make sure to go the first day next year, because lots of good deals were already sold out by today. At least I even made it at all this year!