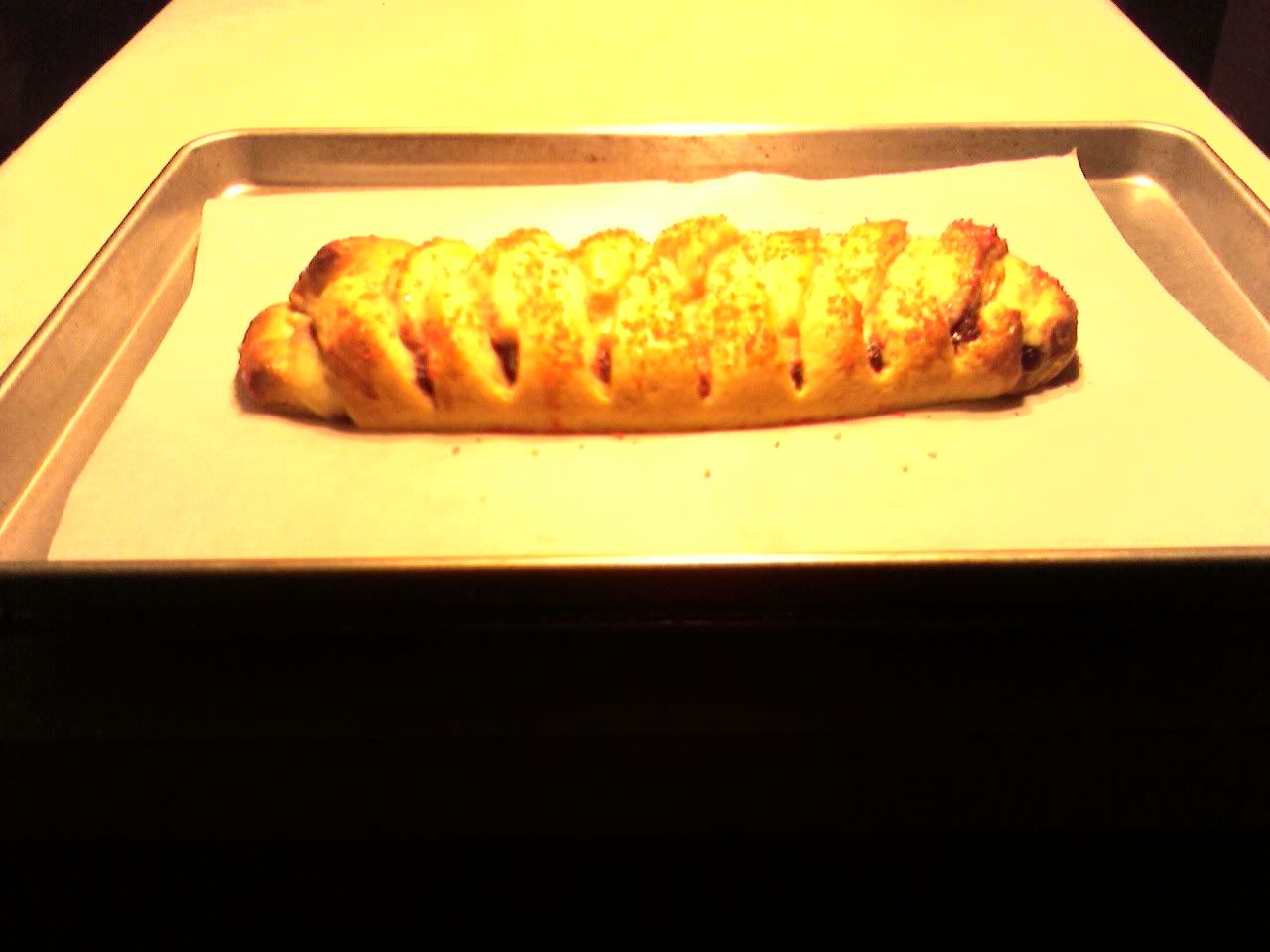 First, the fabulous raspberry cream cheese bread braid I made this afternoon. I made four of these. Two of them are now in the freezer, to be brought out in about 6 weeks when I have a load of people here for my graduation. One is out for eating - I have had two delicious slices and now am overly full. Oof. One has been set aside for me to take to work on Monday, since everyone complains I never bring in any baked goods (I must point out that "never" is only in comparison to one of my coworkers, who seems to bring in 5-layer cakes twice a week for every stinking birthday in the department.) Anyway, I am quite impressed with myself about this bread. It looks fancy, and tastes wonderful, and it was pretty easy (mostly) to make.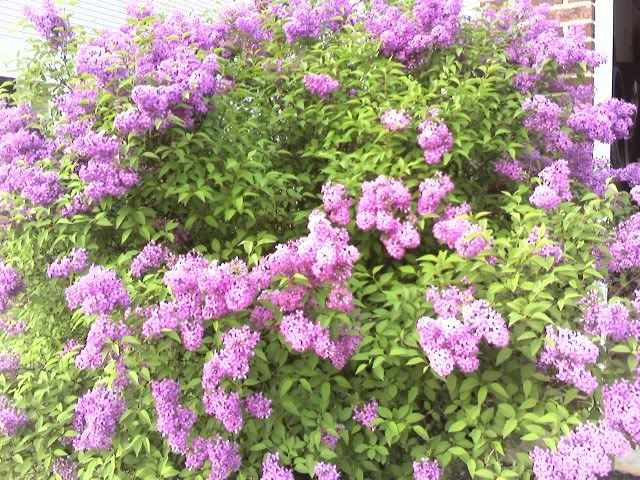 This is our one lilac bush that is currently in bloom. (I know the photo looks upside down, but really, it's not!) We have 3 more that will bloom in about a month, and 3 more that usually bloom in late July but I think they are dead, so we'll probably be cutting those down. Anyway, lilacs are one of my favorite things about spring. They smell soooooooooo good.
We got the quote for the front yard landscaping, and we're going to go for it. They are going to rip out our front walkway, put in a new (stone!) one, and put in a planting bed for the lovely perennials I've ordered. Unfortunately they won't be out here to do the work for at least 3 weeks.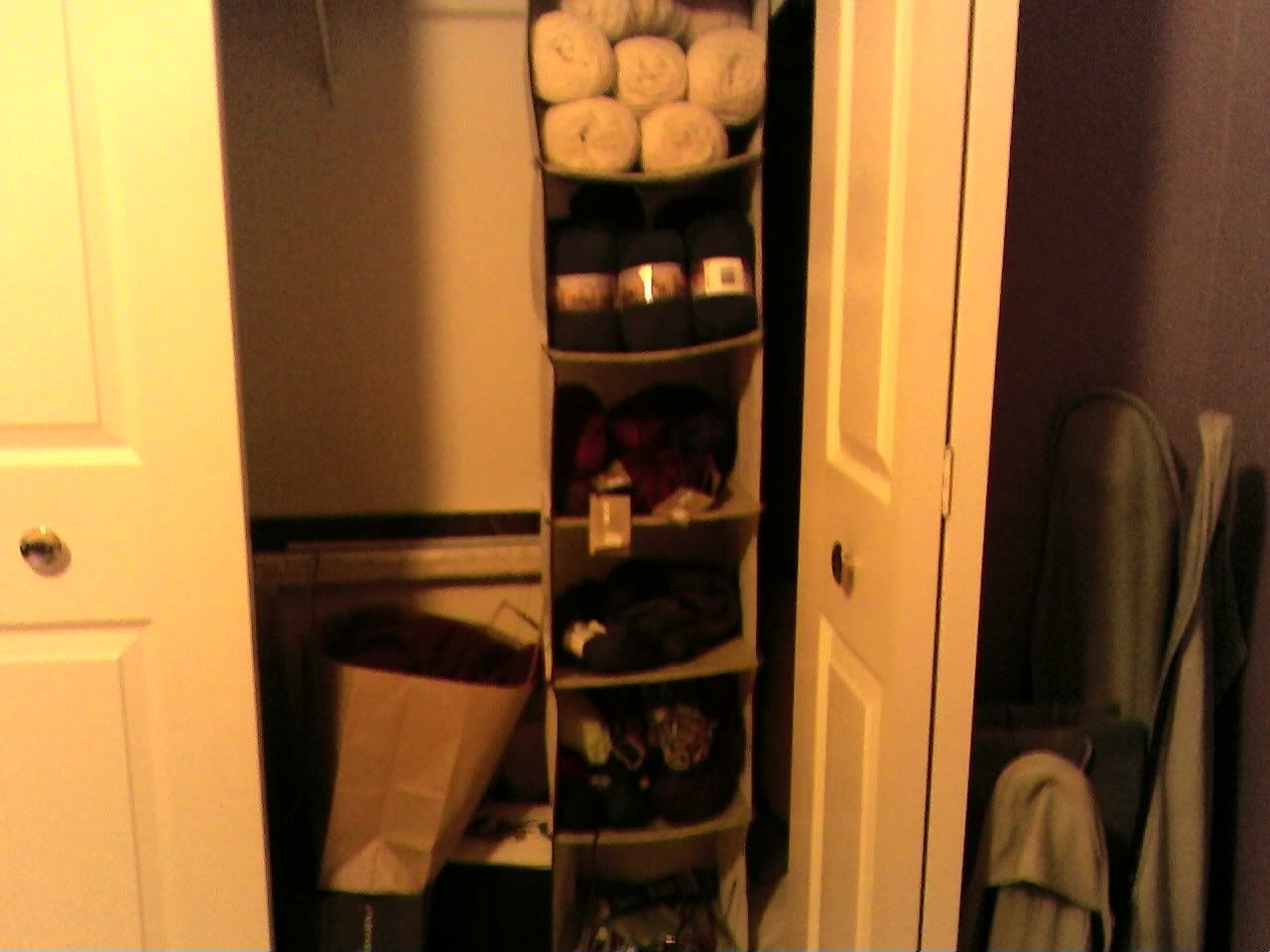 And I promised some photos of my stash! Here is the whole thing, as I mentioned, in a hanging bag in my closet.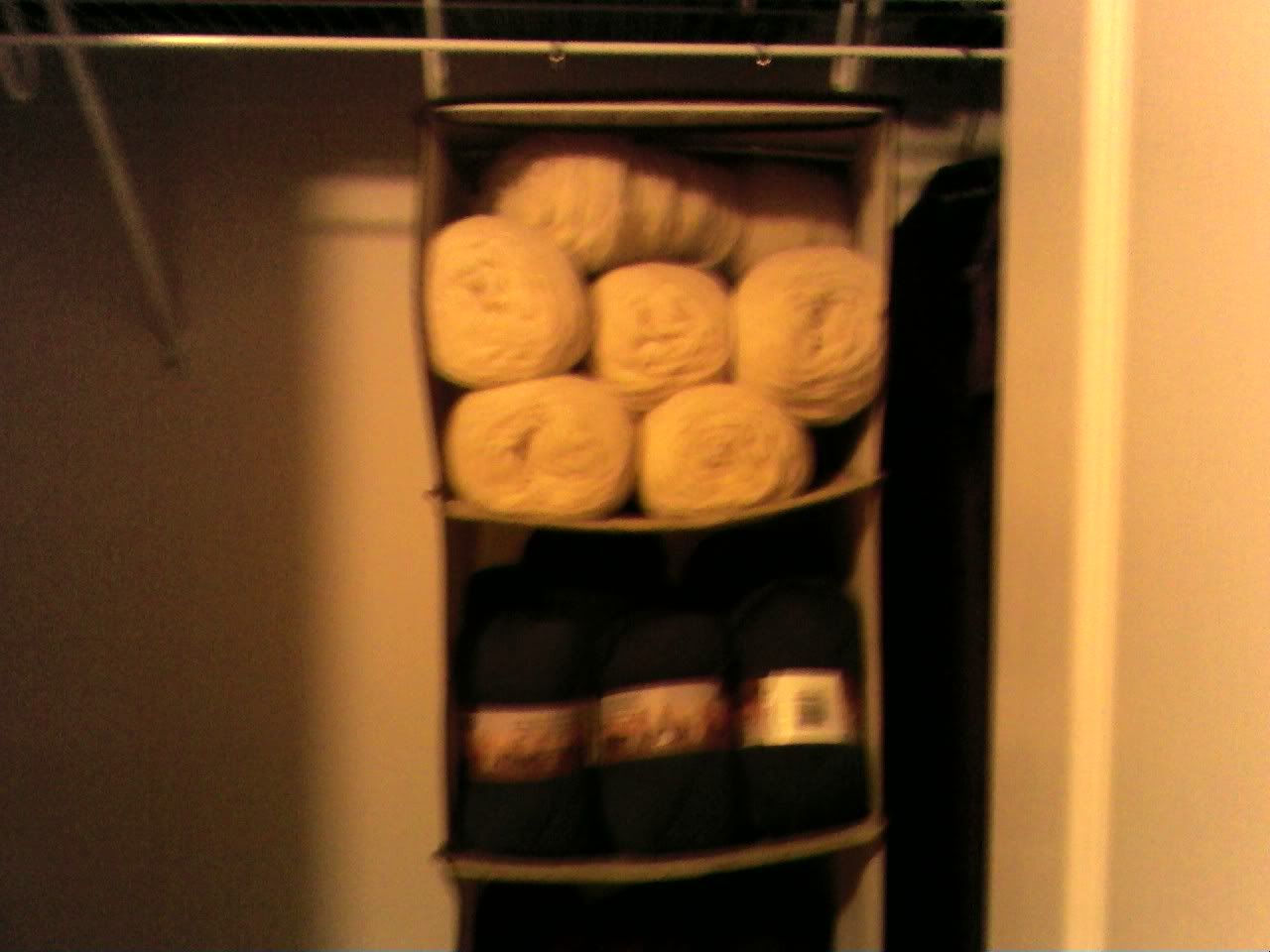 Here we have the top two shelves. The top is completely full of Fishermen's Wool, some of which I am going to use to make a rug with cables on the outside edges. I am both excited and apprehensive about this upcoming project. The second shelf is Patons Classic Merino in a nice forest green, which I am using for C's sweater I mentioned a few days ago. I'm about 6 rows into the basketweave on that, and could be even further if I would quit wasting time online.
The third row is pretty much all Manos (swoon), but not enough to make anything with. I pretty much cleaned out what was left of a sale one day, not worrying about having enough for a project since it's not dye-lotted. I figure I'll get more when I go back next - I haven't been to that particular store since January, even though it's only 20 minutes away. I'll be going soon to buy SP8 goodies though. The lower shelf here has some random yarns, most notably a 100% alpaca hand-dyed from Great Adirondack. I was going to do a wrap/shawl with this, but it's 600 yards and that doesn't seem to be enough, so I may need to seek out some more, or change my plans.
The top here is mostly leftovers from past projects. The very bottom is a jumble of all my needles and notions. To be fair, I was supposed to have a nice place to keep that stuff. My husband, who does woodworking on occasion, was making me a nice hardwood box for all that stuff when he had his unfortunate table saw incident that ripped his hand open. He's OK, but the hand still has quite a bit of healing to do. So for now, the needles are here.
Tonight I think I may go back to the felted iPod holder I have been putting off. I pretty much screwed up the body of it, so I threw in the towel about 3/4 through the I-cord. But I have enough yarn to start over, and think I should be able to finish it pretty quickly on size 4 needles.