This was dessert last night..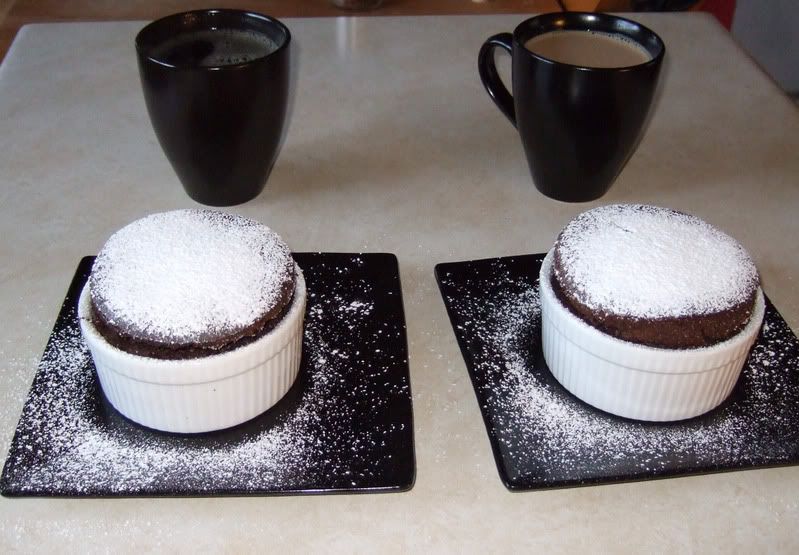 Chocolate souffles are my FAVORITE dessert ever. Especially my own recipe, which I just discovered I have not yet shared with you all!
Chocolate Souffles
1/4 cup granulated sugar plus additional for dusting the dishes
2 tablespoons all-purpose flour
2 tablespoons Dutch-process cocoa powder
1 tablespoon cold unsalted butter
1/2 cup milk
1 1/2 ounce high quality bittersweet
chocolate
, chopped fine
1 large egg yolk
2 large egg whites
confectioners' sugar for dusting the soufflés
Butter 2 1-cup ramekins and dust them with the additional granulated sugar, shaking out the excess. In a bowl blend together 2 tablespoons of the remaining granulated sugar, the flour, the cocoa powder, the butter, and a pinch of salt until the mixture resembles meal. In a saucepan bring the milk to a boil. Whisk the cocoa mixture into the milk with the
chocolate
, cook the mixture over moderate heat, whisking, for 1 minute, or until it is thickened, and let it cool. In a bowl beat the egg yolk slightly and beat in the
chocolate
mixture. In another bowl beat the egg whites with a pinch of salt until they hold soft peaks, add the remaining 2 tablespoons granulated sugar, a little at a time, beating, and beat the meringue until it holds stiff glossy peaks. Stir one fourth of the meringue into the
chocolate
pastry cream to lighten it and fold in the remaining meringue gently but thoroughly. Divide the mixture between the prepared dishes and bake the soufflés in a shallow baking pan in the middle of a preheated 400°F. oven for 18 minutes (if you have convection, use it), or until they are puffed. Dust the soufflés decoratively with the confectioners' sugar and serve them immediately.
Serves 2.
You can prepare these, put them in the ramekins, and then wait to put them in the oven until you are eating supper - and then they will be ready to eat when you are ready to eat them.
Am recovering from a glass of wine right now, then will be out on my bicycle for a bit, and then I expect to tackle Bayerische for a few rounds. I need to keep up with the
Joneses
, although the
Joneses
have (ahem) not been blogging lately so I have no idea where I am in relation to them.