(Warning, LOTS of photos in this post..)
Last night was our long-awaited reservation at
Alinea
. I love going to the really crazy gourmet restaurants once in awhile, and this was my celebration for my promotion back in January (you have to get reservations pretty far ahead). It's all a set menu, but they do accommodate dietary restrictions - which was good because I can't tolerate black pepper and I have an extreme aversion to truffles (the mushroom kind).
They have 2 options, the Chef's Tasting (12 courses) and the Chef's Tour (24 courses). Guess which one we went for :) We also did the wine pairings, because I think with tasting menu-type meals, you're generally better off doing that than trying to pair a bottle to the whole assortment of things you are going to eat.
So, here goes the Tour....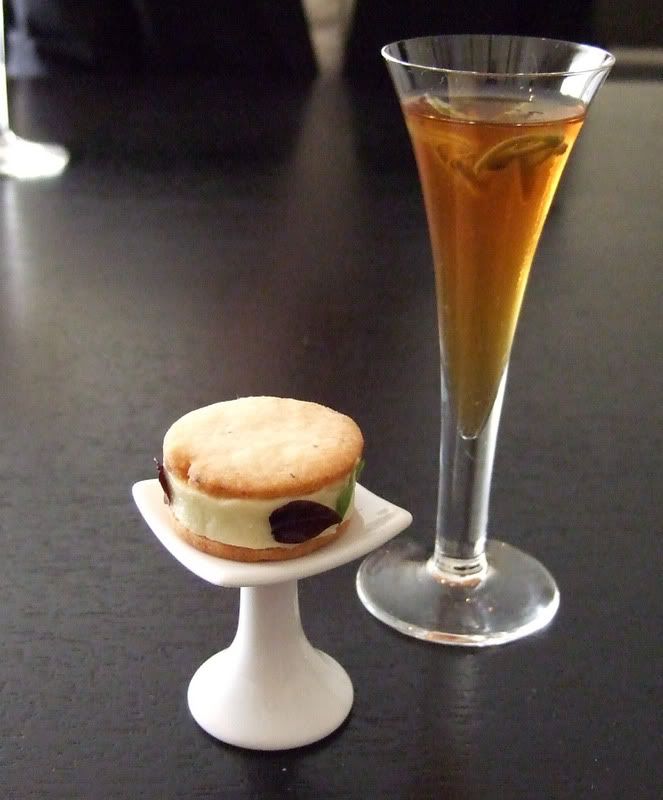 Course 1: The thing on the left is a sort of savory ice cream sandwich, with frozen artichoke puree layered between red pepper puree and sandwiched with parmesan-black pepper crackers, with basil pressed into the sides. On the right is an herb-infused broth with seaweed in it. These were a very good start. The wine for the first 2 courses was a sparkling Austrian wine with Elderflower essence added to it.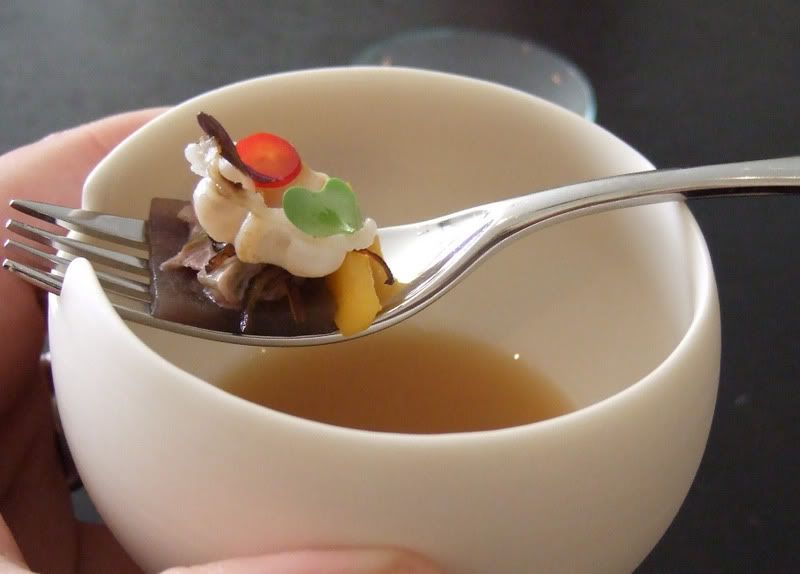 Course 2: On the fork is a salad with octopus, papaya, and a few other things I can't remember. We were instructed to eat the salad, then drink the toasted soy milk in the bowl. I really enjoyed this, but then I love octopus.
Course 3: This is a fish course. Crispy fried sturgeon with curry, and a light monkfish mousse. Both of them are sitting on top of a savory banana pudding and topped off with a paper made of onion. This was definitely not something I would have ordered but I loved it. I always thought I didn't like curry. I will be experimenting more in the future, for sure. With this course was a French Chardonnay that went really nicely with the spiciness of the sturgeon.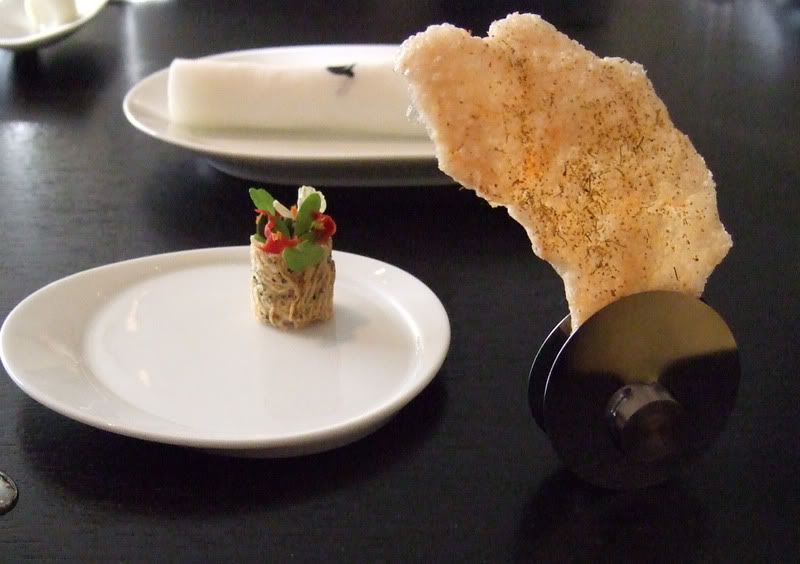 Course 4: On the left is sardine with black olive, tomato, and arugula (there must have been black pepper in this since I didn't get one). On the right is a lobster cracker with fennel pollen on one side and butter on the other side (hence the rolled up towel behind it). I loved this thing. And it also went extremely well with the wine.
Course 5: This was one of my absolute favorites, though it doesn't look like much in the photo. It was brought to the table layered in a sort of glass tube, and then the server removed the tube before walking away, so it all oozed everywhere. But this is a porcini mushroom puree, with bits of sauteed porcinis, chopped almonds, chopped cherries, and powdered prosciutto. On the very top are almond and cherry ice creams. The temperature variations were very interesting, and the flavors were incredible. The wine that showed up with this course was a Sicilian Marsala, very dry, nutty, and strong. It went well with the food but was a bit much for me so I only drank half of it.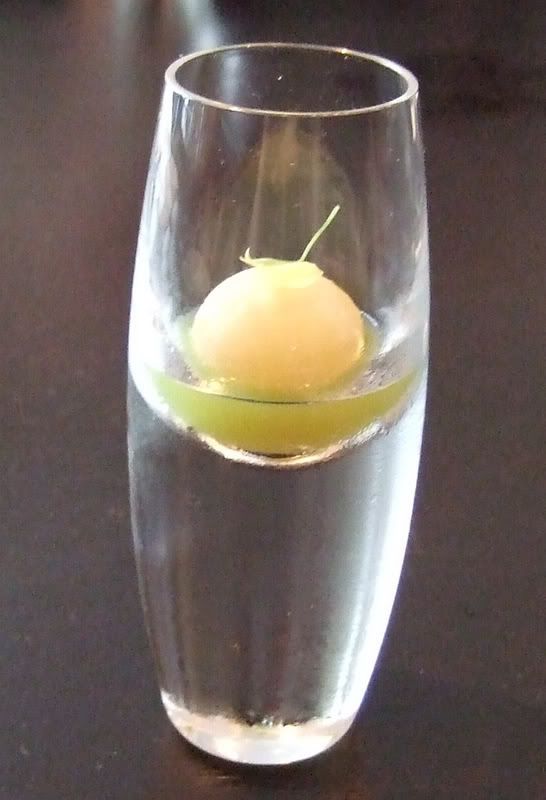 Course 6: This was a ball of horseradish with apple cider inside, and the whole thing was sitting in celery juice. You drop this into your mouth like a shot, and when the horseradish hits your tongue the cider shoots out (they warn you to make sure you close your mouth quickly; I almost didn't make it in time). Not my favorite, but definitely some interesting flavors.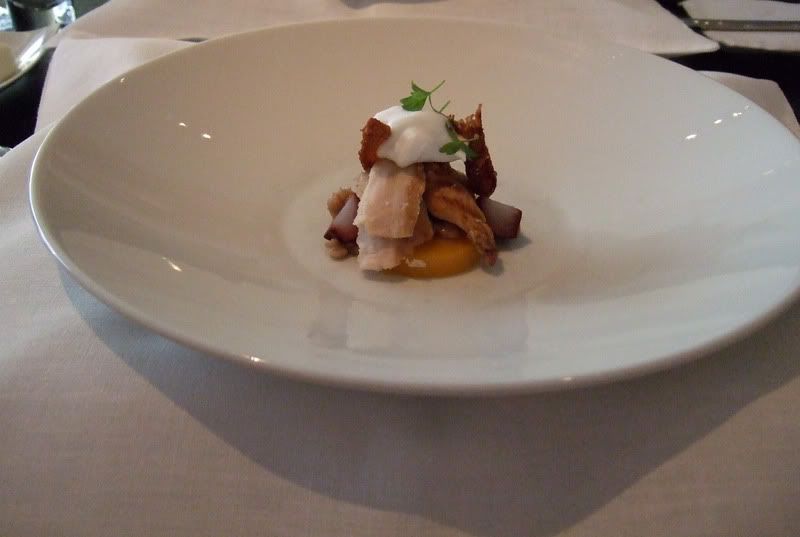 Course 7: This one was really interesting. Underneath the plate is a linen pillow, filled with lavender-infused air so you would have the aromas while eating. This is chicken, prepared a few different ways, with mango and topped off with a yogurt sauce. Another white Austrian wine was presented with this.
Course 8: This was a small ravioli that they called an "explosion" because it is filled with thyme infused broth that breaks open when it gets in your mouth. C's ravioli actually had black truffle broth in it and a thin slice of truffle on top. Both of them had romaine lettuce and a small shaving of parmesan on top as well. If you haven't been noticing the really interesting tableware, look at this one. See the black under the spoon? That is not a sauce or anything, it is actually that there is no bottom to the dish and you can see the table underneath.
Course 9: This is a beef short rib sprinkled with peanuts, broccoli, and baby cilantro. The square thing laid over the top of the rib is made from Guinness (I'm not really sure how they do this, but you will see more of these things). We got an absolutely delightful Italian red with this, very light but also very intense with notes of vanilla and berries.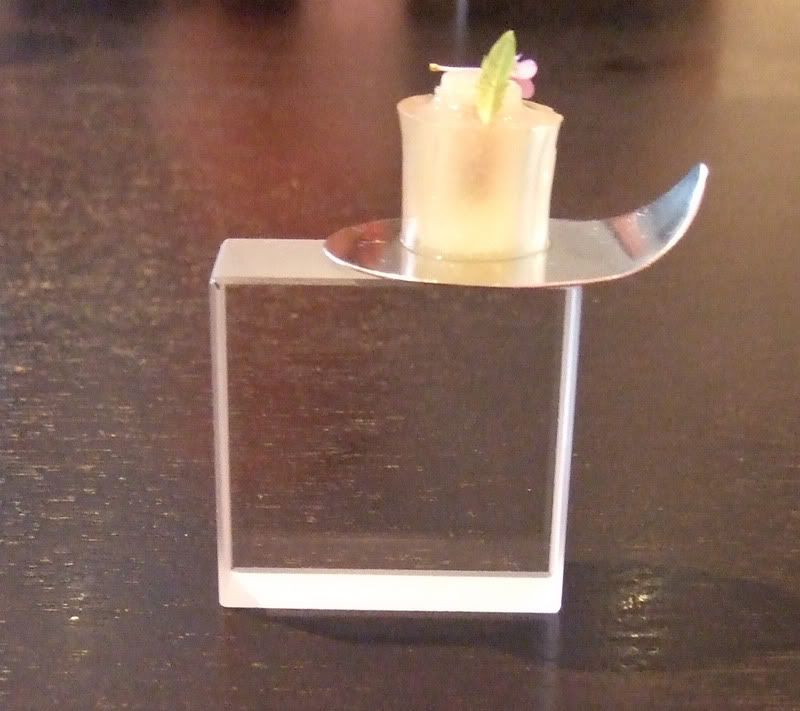 Course 10: Honeydew melon gelee with mint on top. That little metal plate lifts off the square thing, and you slide the gelee right into your mouth.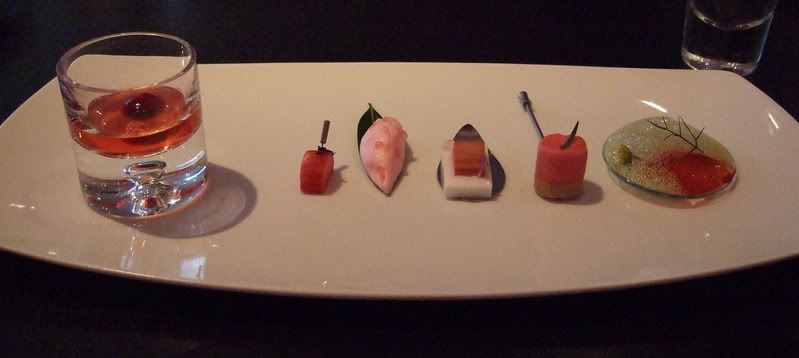 Course 11: This was based on rhubarb. I don't remember what all of this was. In the glass is rhubarb juice and another explosion-type thing inside it. Both sweet and tart. The next one over was raw rhubarb that tasted like it had been soaked in grapefruit juice (the thing in top is a pin that was used as a utensil). The next one was a sort of mousse that also had grapefruit in it, served on a leaf. Then a rhubarb gelee on top of a goat milk custard, and a sort of rhubarb ice cream sandwich. I don't remember what the last one was except it had fennel and some kind of foam along with the rhubarb, and you just slid it off the glass plate into your mouth. We got a German Spatlese with this course.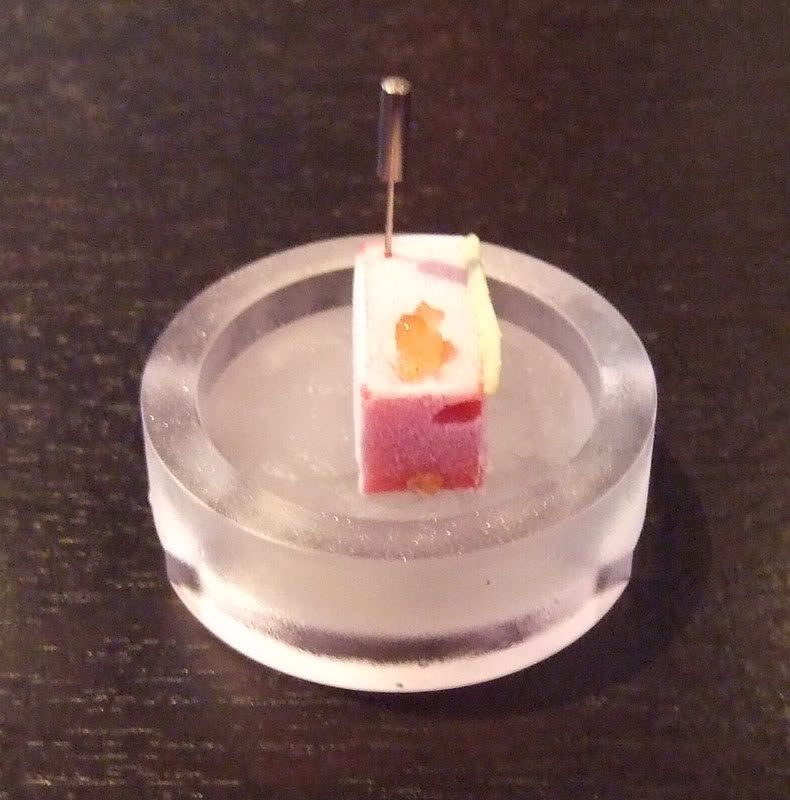 Course 12: a frozen chewy strawberry thing, also using a pin as a utensil. See that strip of light green on the top right? That's wasabi. I was worried I wouldn't like it since I'm not a fan of wasabi, but it added some good flavor and the heat wasn't too bad.
Course 13: Candied dried tuna, wrapped with grapefruit peel, lemongrass, and garlic. The lemongrass was very intense. This was good ole finger food.

Course 14: This is a stalk of white asparagus with several treatments sitting in an herb sauce. On the far right is a quail egg yolk, which was very interesting. We got a Portuguese sparkling wine with this.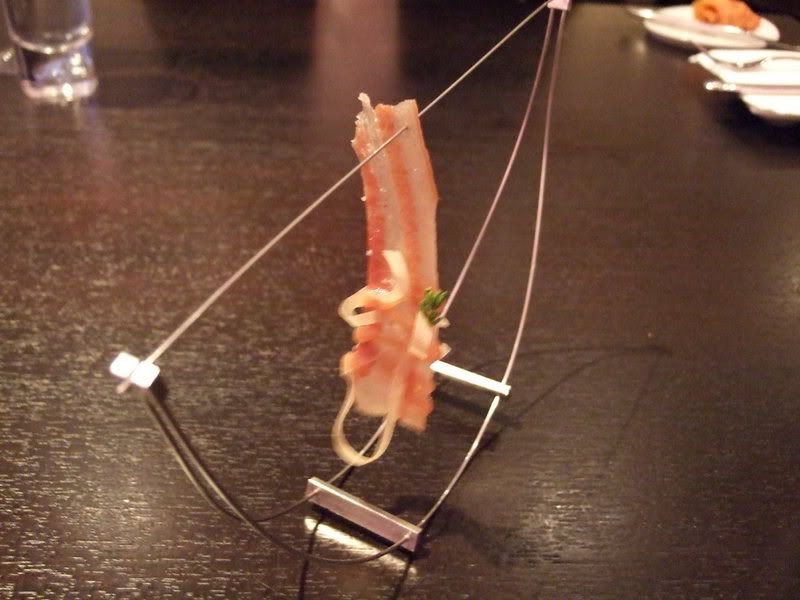 Course 15: C got a pineapple thing filled with bacon powder and black pepper. I got a strip of bacon wrapped with butterscotch, apple, and thyme. The bottom of that photo is blurry because the contraption it is hanging from was rocking and I couldn't get it to stay completely still. Anyway, the bacon was really good, very nice combination of flavors.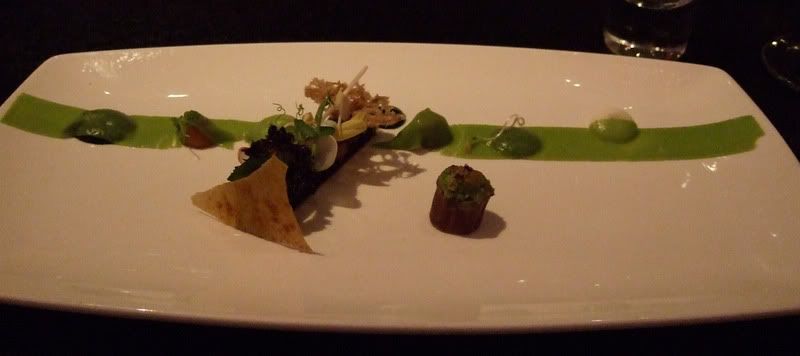 Course 16: Along the back is a strip of pea puree, covering dollops of curry and yogurt. In the middle is a lamb consomme filled with peas, and the little round thing in the front is lamb with morels. We had a nice hearty Tuscan red wine to go with this. The only thing I really liked on this was the little round piece of lamb.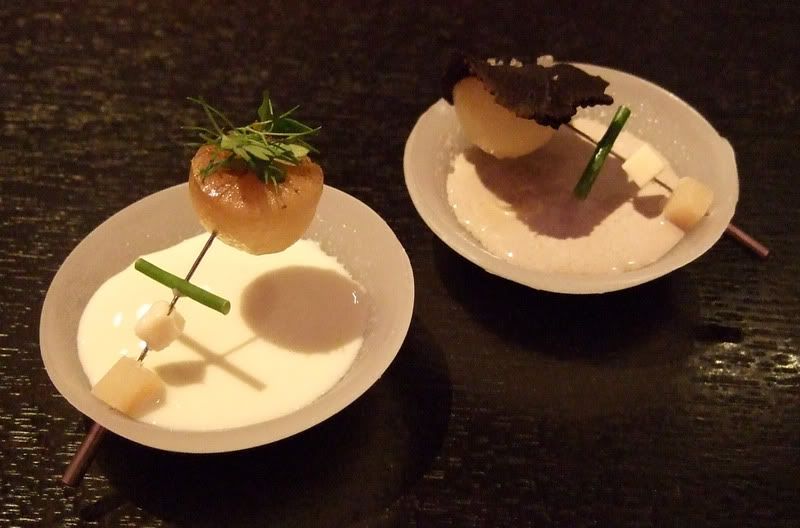 Course 17: They called this "Hot Potato, Cold Potato". Warm tiny potato with chives, butter, and parmesan on the skewer, in my bowl (left) cold potato leek soup; in C's bowl (right) potato truffle soup, and his potato has a truffle slice on top. You pull out the skewer and the hot items fall into the cold soup, and you dump it all in your mouth. I really enjoyed this one.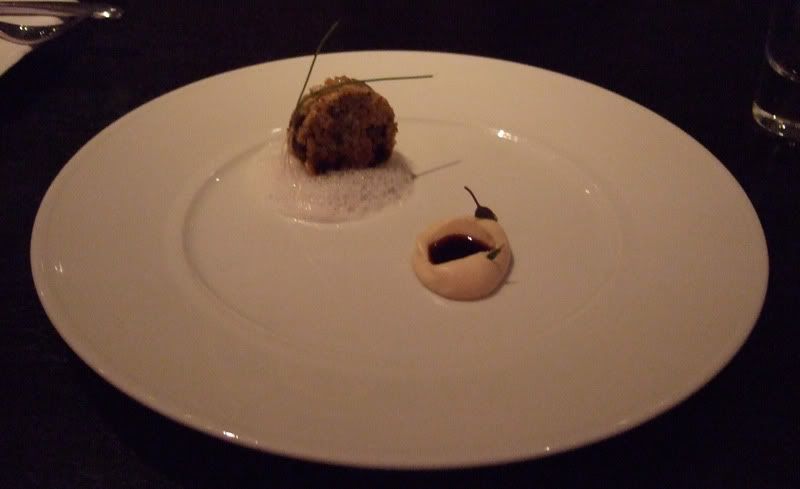 Course 18: Bison tenderloin, crusted with a savory granola, sitting in foam (can't remember what the foam was made of). In front is a celery puree with red wine reduction in it. I love bison, and this was particularly good. It was funny because they kept talking about how gamey this was, and it didn't taste gamey to me at all...but I just don't find bison gamey to begin with. We had another bold Italian red wine with this. Toward the end of this course I pretty much hit the wall with being comfortable eating any more.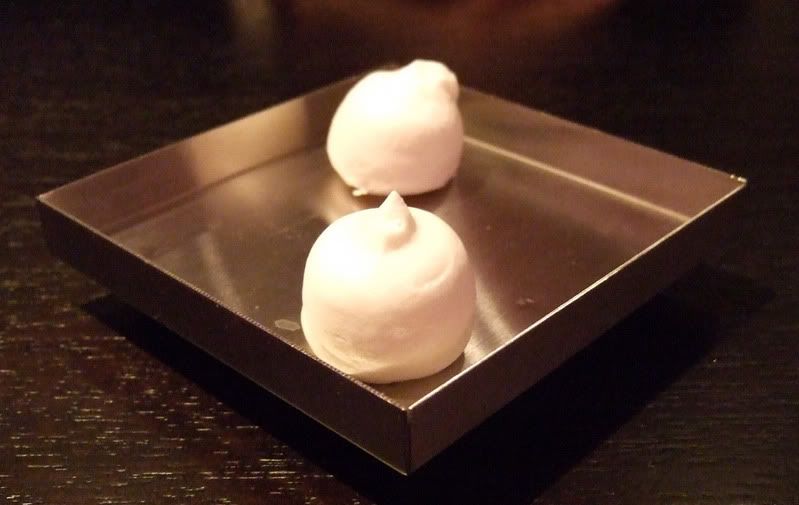 Course 19: These were cinnamon meringues with foie gras and apple inside. In general I am anti-foie gras, but there was so little of it in here I didn't worry about it. This thing was actually quite good...but I would never specifically order foi gras.
Course 20: This was the first specific dessert course. In front is what they called a "guava sponge"...I can't remember what was on the spoon. The green and white thing is a dual semifreddo of avocado and brie. On the edge of the bowl is an "explosion" thingy of brown sugar and rum, with goat cheese and pine nuts. The liquid in the bottom of the bowl is guava juice, which they poured into the bowl at the table. The avocado/brie semifreddo was my favorite part of this. We had an Austrian dessert wine served with this. I don't really like dessert wine, and this was no exception, so I only had a couple tiny sips (plus, I knew I had an hour-long drive home coming up).

Course 21: A coconut strip with sweet cornmeal chips and kiwi slices. On the far right is a saffron ball filled with kiwi. This was interesting but I could have lived without it.
Course 22: I fully expected to hate this. It was a licorice cake with orange and anise, and licorice flavored spun Muscovado sugar. I really don't like licorice. So between that and the fact that I was stuffed to the gills, I had a hard time getting myself to put this in my mouth. The delivery method was really interesting though, you just pull it off the wire with your mouth, no hands or utensils needed. Once I got this in my mouth I actually enjoyed it, but again was so full I had trouble actually swallowing it. This was one of the nice surprises of the meal, though.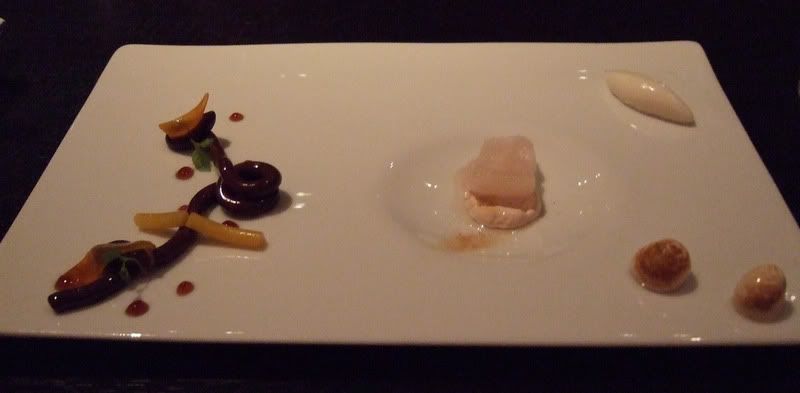 Course 23 - This was the chocolate course - chocolate ganache on the left, with passionfruit puree. The back right corner is rice pudding, the front right corner are soy sauce marshmallows, and the center is frozen soy sauce, soy sauce powder, and some other funky soy sauce thing. As a passionate chocolate lover, I was a bit disappointed in this one. We got an Italian red dessert wine with this, which I liked a bit more than the earlier one but kept it to small sips because of the upcoming drive.
Course 24: This was a cinnamon custardy thing, deep fried and on a cinnamon stick. I really enjoyed this one, but unfortunately I was so full at this point it made me feel sick more than anything. C couldn't even bring himself to eat his.
So, I would totally go back (not in the very near future though) but would probably do the Tasting the next time. I think that the things I really liked were on the Tasting menu as well. This was really a lot of fun though. We were at the restaurant for 5 1/2 hours, and the whole experience was very entertaining. The cost was probably more than what I've spent on all the yarn I've ever bought in my life, and I knew that going in, but this is definitely not a place to go all the time. Maybe once every few years. But I'm really glad we went, it was amazing.