Can you believe it's another round of SP already? Well, here goes...
1. What is/are your favorite yarn/s to knit with? What fibers do you absolutely *not* like?

Like everyone else (or so it seems) I prefer natural fibers. Love wool and alpaca...would like to try bamboo.


2. What do you use to store your needles/hooks in?


These: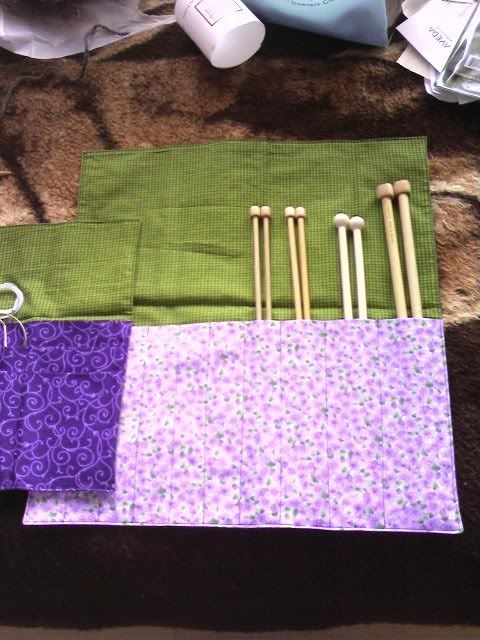 Made for me by my wonderful SP8 spoiler,
Julie
. I have one for straight needles, one for circs, one for sock DPN's and one for larger DPN's.
3. How long have you been knitting & how did you learn? Would you consider your skill level to be beginner, intermediate or advanced?
Self taught via books (mostly SnB). I've been knitting for 2 years and would consider myself advanced beginner.


4. Do you have an Amazon or other online wish list?
Yep.


5. What's your favorite scent?
Pumpkin and coconut. However, I am very sensitive to synthetic fragrances and can't tolerate everything. The Body Shop is usually safe... Bath and Body Works can be hit or miss.


6. Do you have a sweet tooth? Favorite candy?
I have an insane sweet tooth. I loooooooooooooove dark chocolate (not such a big fan of milk chocolate but I will eat it when I need a fix). Also a huge fan of chocolate chip cookies and brownies. I also love sour candy - my husband cut me off the sour tangerine Altoids because I could go through a tin in a couple days, even though I got burns on my tongue from the citric acid. I don't eat sour gummies much, but don't mind them once in awhile.


7. What other crafts or Do-It-Yourself things do you like to do? Do you spin?
I don't really do anything else crafty. I have bought a bunch of scrapbooking supplies but have never used any of them. I do enjoy gourmet cooking (as you may occasionally see on this blog).


8. What kind of music do you like? Can your computer/stereo play MP3s? (if your buddy wants to make you a CD)
My musical taste is both varied and picky. I've had bad luck with people trying to make me CD's, so I'd hate to have someone spend a lot of time on that.


9. What's your favorite color(s)? Any colors you just can't stand?
Purple. Seriously. My stash is full of purple, yet I always gravitate toward more purple in the yarn shops. I also like jewel tones in general and often wear black or charcoal gray as well. I don't like pastels, and I depise yellow.


10. What is your family situation? Do you have any pets?
I live with my husband and two cats.


11. Do you wear scarves, hats, mittens or ponchos?
Scarves - yes. Hats - sometimes. Mittens - not currently, only because I don't own any... but am contemplating knitting some for myself. Ponchos - probably not.


12. What is/are your favorite item/s to knit?
Socks. I also like knitting things that are somewhat unusual to knit (for example I am working on a rug, though it's been temporarily abandoned for awhile).


13. What are you knitting right now?
A sweater for my husband - I am hoping to finish it by the end of February but that is probably too ambitious. I also always have a sock going because they are nice and portable...I usually work on socks during lunch at work, doctor waiting rooms, etc.


14. Do you like to receive handmade gifts?
Yep!


15. Do you prefer straight or circular needles? Bamboo, aluminum, plastic?
Circs are my favorite, though I haven't spent enough time with them lately. I like bamboo for straights and aluminum for circs and sock needles. Bamboo is also good for larger DPNs. Have not used plastic and am not convinced I'd like it (even for the mighty Denises).


16. Do you own a yarn winder and/or swift?

I have both.


17. How old is your oldest UFO?
I think it's the sweater I'm working on. I started it maybe last May, or something like that. It's only slow because I set it aside in July or August so I could do insane amounts of Christmas knitting (hope people don't get used to that!).



18. What is your favorite holiday?
Christmas.


19. Is there anything that you collect?
Cookbooks.


20. Any books, yarns, needles or patterns out there you are dying to get your hands on? What knitting magazine subscriptions do you have?
I subscribe to IK. I still really want to make the Bobbi Bear or Baby Bobbi Bear at some point.


21. Are there any new techniques you'd like to learn?
Lace. I keep saying I am going to sign up for a class at my LYS so I can learn it (it looks far too difficult to teach myself).
22. Are you a sock knitter? What are your foot measurements?
Yes. I never seem to get around to measuring my foot, but I think most standard sock patterns would fit me. Every sock I've ever knit has fit me, no matter who I was making it for.


23. When is your birthday?


April 5th.