So Friday night I finally learned how to do a long-tail cast on. I forget the name of the one I was using - it was easy but had the unfortunate side-effect of a long and growing gap (of yarn) between the two needles for the first row. It took me awhile to get the hang of long-tail, but I think I got it. We'll see how it goes the next time I go to start a project. I used it to start off the second of the purple-and-brown socks that I finished last month. I just need to get that sucker done or I'll never do it. I don't like the feel of the end product very much, so I may give them to someone who won't be as fussy.
Yesterday we went furniture shopping - now that I know how much my bonus (woo!) is going to be. We want to completely replace all the hand me down stuff in the family room. Here is what we are leaning toward: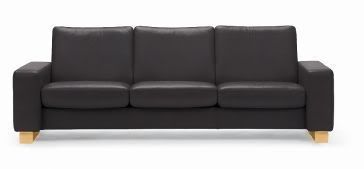 There would also be a matching 2-seat loveseat, and chair. It's great quality stuff, all the seats are actually adjustable (not really a full recliner as there is no footrest), and soooooooooooo comfortable. However, there are a few drawbacks:
1) Super expensive - would basically eat up all my after-tax bonus.
2) They are made to order in Norway and shipped here, which means a 4 month wait till delivery.
3) It's not very sustainable to have very large pieces of furniture made in Norway and shipped to Illinois.
So a little more thinking to do, but I'm guessing we'll do it anyway.
On a personal note, my in-laws' divorce is going to be final this week. I've not mentioned this at all in my blog, but they have been living apart for the past year. It's been quite a blow for me - they had been the couple I looked up to and tried to model my own marriage after (well, at least the part I saw - clearly there was more going on behind the scenes, as there always is). Plus, C's family in general is just very close, and there is just something weird about not having his dad around at gatherings anymore (by the way, it was his decision to leave, she did not want this at all). I have a hard time coming to terms with it. Yes, I understand I can't change it, but it's difficult to accept it all the same.